Classroom Hire
Classroom Hire - Facilities
Facilities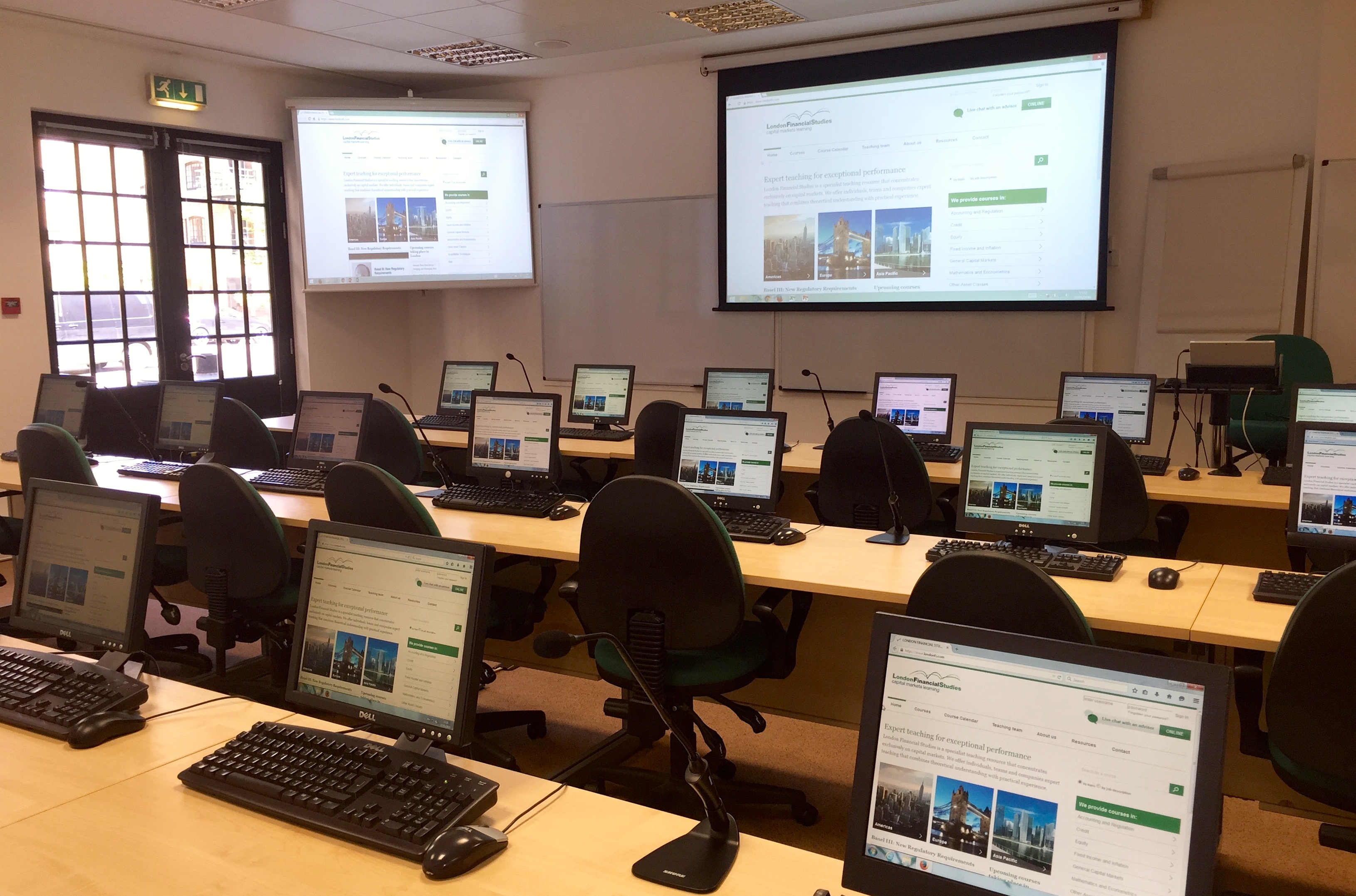 London Financial Studies (LFS) is a prestigious capital markets executive education specialist, offering its training facilities for hire at competitive rates.
We are conveniently located near Tower Bridge, within easy reach of The City, West End and Docklands via Tower Hill tube and London Bridge station.
Our training facility is equipped with state-of-the-art technology and can accommodate groups of up to 20 people, offering a quiet, bright and comfortable environment to learn. On-site administration and technical support make it easy for you to deliver a successful event.
Our 30ft x 24ft computer lab is arranged in a classroom style and includes:
Individual PC's / laptops running MS Office 2010
Touchscreen laptop and tablet for instructors
Fibre-optic broadband and complimentary Wi-Fi
HD projectors, whiteboards and flipcharts
Controlled air-conditioning
Catering
Daily rates include refreshments and light snacks. Corporate lunch arrangements with local restaurants are available or you can arrange for a caterer to deliver light lunches, which can be served in our break out area.
Take advantage of our superb facilities to ensure the best service for you and your delegates.
Please click here to request further information and/or to check availability.
Virtual Classroom
Virtual Classroom technology allows you to deliver a training event remotely to anywhere in the world.
Using the latest distance learning technology and broadcasting techniques, your delegates are able to participate in live, online instructor-led events. All in-class action is captured on our cameras, edited and broadcast live in high definition by our in-house production team so online participants feel as if they are in the classroom. Our cutting-edge platform offers:
Full HD cameras & HDMI data feeds
Wireless lapel microphone for instructors
Table-mounted audience microphones
Loudspeakers & TV screen displaying online delegates in real-time
Live HD broadcasting production and technical support
Recording capability
Easy web-based online access
Virtual Experience. Real Learning
Our Virtual Classroom platform allows delegates to attend your training or meeting events remotely from the convenience of their home or office. Your delegates enjoy the same learning experience they would have in the classroom. Key benefits include:
Easy web-based connection from any Internet accessible location and device, so you can reach out to a wider audience
Direct client access via your website or LMS granting you full control of your event branding and customisation
Professional live HD broadcasting production for a seamless virtual delivery and an effective and engaging learning experience
Duo audio-visual channels to enable real-time interaction between instructor and online delegates
Screen sharing and remote desktop control tools for live collaboration during hands-on exercises
No time-consuming commute or travel and accommodation expenses for your delegates
Live online chat and technical support
What clients say about our Virtual Classroom platform
"The remote learning experience was extremely satisfying. I was able to talk to the lecturer whenever I had a doubt and all the questions were clarified. It enabled me to feel like I was in LFS's classroom without leaving my office in Brazil."
Manager - Banco do Brasil
---
"It was my first online live experience and I am pretty amazed with the quality of the broadcasting. I would recommend this experience to anyone."
Director - BTG Pactual
Contact Us
We can tailor prices to individual needs; discounts are available for multiple-day events as well as for charities, local government and not-for-profit organisations.
Please contact us for a quote or further information.